Get A Ford Tire Repair Near Me Tampa, FL
Ford Tire Repair Near Me, Tampa Fl

When you find yourself searching Ford tire repair near me in your search engine, our team at Veterans Ford is happy to assist! Our auto technicians are trained in all types of tire services. Drivers near Tampa, Odessa, and Westchase, FL, turn to us for speedy and high-quality repairs.
We offer a wide range of tire repair services for our customers. See what our team can do for you when you book a service appointment with us!
Tire Rotations & Replacements
Your tires affect the performance of your vehicle in so many ways. Our technicians can help you care for yours, so you can look forward to top-notch driving for years to come.
Turn to us for your:
Tire rotations
Tire replacements
Nail-in-tire repair
Tires should be rotated regularly to extend their lifespan and keep tread wear even.
From time to time, you should replace your tires to avoid safety issues on the road. If you happen to pick up a nail, a screw, or glass in your tire, we can help you repair or replace your tire as well.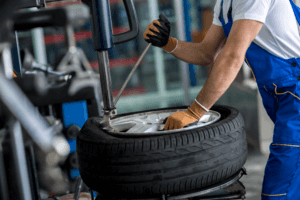 Tire Service—How Often?
How often should you have tire service performed? We recommend rotating your tires once every 6,000 miles or six months—whichever come first. Doing so will help keep tire wear even.
The National Highway Traffic Safety Administration (NHTSA) recommends replacing tires at least every six years. This will ensure safer driving and help you avoid blowouts on the road.
If nails or other debris puncture your tire, have the damage assessed as soon as possible. A professional technician can help confirm whether repair is possible or replacement is needed.
Where Can I Get My Tires Changed near Me?
If you need a tire change or any other tire service, our team at Veterans Ford can help. We welcome our fellow Tampa, Odessa, and Westchase, FL, drivers to choose our service center for their repairs. We'll provide timely service that works for your schedule.
Book your tire change or repair today. Our certified technicians will have your tires in tip-top shape for your next road-trekking adventure!